Welcome to the Goldfields Heritage Trust – 2023 Postie Bike Rally – 270km start/finish in Millers Flat!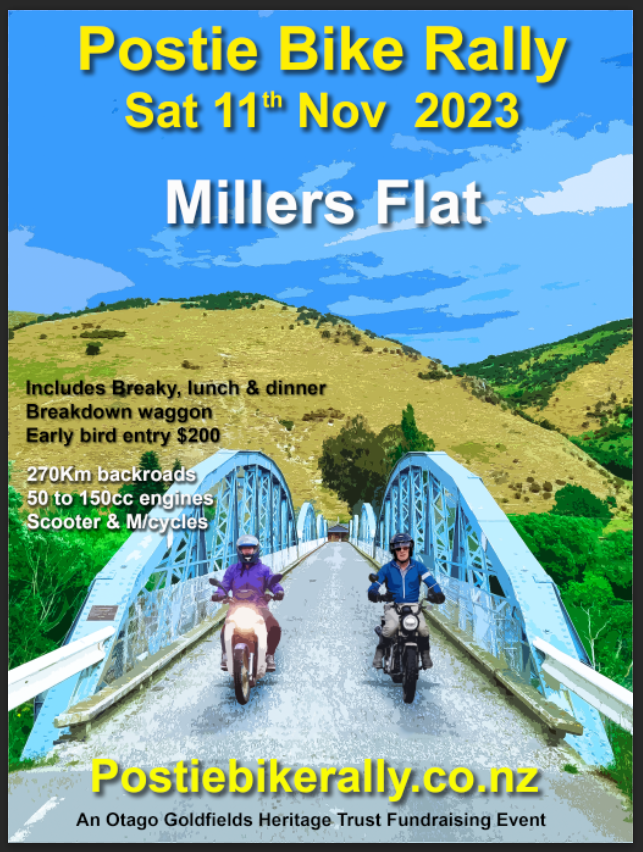 At registration and sign on, you'll meet your fellow riders as you enjoy the supplied breakfast at the Community Hall from 8am. From here youll be taking mostly scenic back roads, but some highway work, until you arrive at the lunch stop at a Country Pub, where we will be supplying a decent Postie Lunch of filled roll, cake, fruit & drink.  Toilets here too.
Be sure to have sufficient fuel for 120km. There are gas stations enroute, but from Lunch, there's only one  on the next town you'll pass through.
Carry a few tools too in case you need to adjust or tighten something. A well lubricated chain will help.  Weather is usually pretty good, though you had better come prepared for rain and cold. If your bike breaks down, you may be waiting an hour or so for the Broom Wagon and trailer to arrive.At breakfast youll be given a Route Map. The Ride is escorted, meaning youll need to ride together as a group,departing 9am sharp. We are venturing through some farm tracks (yes it is a "road" but little used). When we get to the shearing shed, your free to travel as you want. Most of the ride is on county gravel roads in various conditions. There are sealed roads too of course, so be aware of faster traffic.After lunch you'll be heading to high and remote country, so it could be cold, teeshirt and shorts will not do. Warm gear please. After a while youll descend into the Clutha River valley, then wind your way back to the Community Hall for dinner & prize giving. If you arrive early, there's a cafe either side of the Millers Flat bridge.This year's ride is much more relaxed than the 2021 event, so take your time and enjoy the day out.No need to bring a support vehicle on the Rally, a 4WD with trailer will be following the Postie's, collecting breakdowns, if any. Tool support and mechanic on board!Now the essential bits.Breakfast commences 8am.
Lunch is lakeside between 12 and 1:30pm, we'll tell you where, there's plenty of parking and toilets available.
Finish is the same as the Start point, with plenty of parking nearby. Most accommodation will be in Roxburgh or Lawrance. Book early.
You will need a motorcycle that has a current WoF & Rego and in sound order, we will be checking this..
We had a great time 2021 and 22! See videos below.