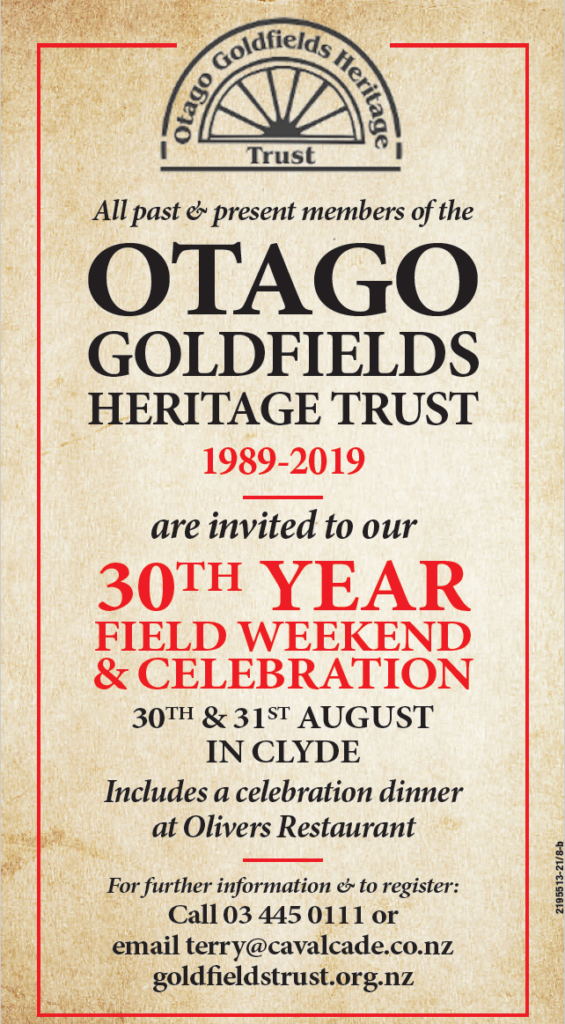 Friday 30th August 2019. Victorian period costume encouraged!
Meet from 10am for morning tea at the Post Office 2 Blyth St. Then across the road to the museum for a tour before back to the Post Office for lunch.
Walk around Clyde. Horse drawn wagon rides for those 'less mobile'. Follow the piper! We will be lead by a piper from the local pipe band. Walking from point of interest to heritage feature around town. Meeting with local enthusiasts keen to share their knowledge!
Meet at Oliver's from 5.30pm for pre dinner drinks before a stupendous 3 course menu straight out of Fluer's 1989 archives! Special Presentations and guest speakers between courses. Entertainment after dinner!
Saturday 31st August
Meet back at Post Office Caffee then drive over the bridge for a local (vehicle) tour around Earnscleugh – morning tea picnic provided in the hills and finishing with lunch at Como Villa.
Cost :
Friday's morning tea, lunch and tour around Clyde $55
Friday night's Dinner and entertainment at Olivers' $86
Saturday's morning tea, lunch and vehicle tour around Earnscleugh. $29
(You can come to all or just parts of the field trip)
Total: $170
To register your interest please email the office – Cheers! terry@cavalcade.co.nz