NEWSLETTER-AUGUST 2009
Greetings Everyone,
It was lovely to meet so many of you at the AGM in Dunedin. Well what a great weekend it was too. The AGM went well, followed by a lovely lunch which included a huge crayfish, courtesy of Fleur Sullivan, then onto the Otago Settlers Museum where we went on a very informative tour with many of the group finding photos of their ancestors hanging on the wall and many more making plans to return as there is so much information available. We then did a tour of the Chinese Gardens; I think these are a must when you are next in Dunedin.
From there we went for a tour of the Speights Brewery with a very hard case tour guide giving lots of rib, but he did get it back as well (we can't let our side down). This was followed by sampling of the fine beverage which I was told went down very well. I had to leave the group at that point as I had a touch of food poisoning so I headed back to my bed while the rest indulged in a lovely three course meal being serenaded by Reg on the mouth organ-wish I was there. Oh yes guys and maybe girls we have to keep drinking Speights as the used yeast is turned into our very own Vegemite and that is soo good for us!
The next day some of us headed to the Otago Museum to take in the butterflies (beautiful), West Africa Rhythm & Spirit or whatever took their fancy then onto the Gas Works, I thought this was a man's domain but again I learnt so much with Bill Cowan (thanks Bill) teaching us about the history of gas in Dunedin. I thought that gas comes from the ground but now know it also comes from coal along with over 300 other different derivatives – caffeine being one of them.
From there we met at a Portobello Café and I must tell you that we had beautiful weather being able to sit outside enjoying our coffee, while Bruce McMillan organises our venture into the unknown looking for the illusive goldmine at Harbour Cone. Four of our members armed with a map and a GPS stomped through swamp, wet grass and very steep terrain while the wise ones (we women) watched the goings on from an old log which was bathed in the sun and especially made for our posteriors. They found a shaft with an opening about a metre square which is believed to be 40ft deep. There used to be a steam-driven five-head stamper battery here and there were several tunnels. They found at least two other exploratory shafts. With the agreement of the landowners it would be great to have access constructed and interpretive signage put up. The goldmine could become one element of an Otago Peninsula Historic Trail!
Back to the AGM: We are very lucky to have Martin Anderson as our new President. Martin has been president of the Central Otago Winegrowers Assoc. and was the director of information services at the University of Otago from 1995 to 2005. Martin and his wife Sue have lived in Lowburn since 1993. They developed the Mount Michael Vineyard at Cromwell and Martin was CEO of Nevis Bluff Wines from 2005 to 2008. Now retired Martin said he was looking forward to continuing the valuable work of the trust and fostering its relationship with the community.
Bruce McMillan will be our Vice-president, Bruce was acknowledged for the time and energy he puts into the Trust. There were no other changes in the committee other than Terry Davis as Field Officer and my position as Office Administrator.
Field Weekend: Yes it won't be long before we have another weekend of good company, good food and where we can broaden our horizons, or mine anyway.
This time we head to Mt Somers 19 & 20th September. This is a highly interesting geological area.
We will have David Howden as our guide taking us to see and learn about the Silica Sand Mine, Coal Mine, Lime Kilns Quarry and see Agate minerals, jewellery and a lovely garden as mentioned in the last newsletter. We have booked the Staveley Campsite at around $10 per night per person.  The facility has a hall, dining hall, kitchen, dormitories etc. The dorms are comprised of 8 rooms with capacity of 96 bunks. The kitchen has stoves, fridges, basic kitchen utensils etc. You will need pillows, personal crockery and cutlery, and toilet paper We do encourage all who are coming to consider this option but there is also the option of Home-stays and other accommodation but the camping ground has been booked out. There are power points at the Staveley Campsite for those of you with caravans or campervans. Lunches for the Saturday and Sunday will be provided as well as dinner on the Saturday night.  More information will be sent when you contact us with your intentions of attending.
We have booked the campsite for Friday and Saturday as most of us have a long way to go (but worth it I am sure). You will need to bring your own food for breakfasts and for your dinner on the Friday evening.
Books: I finished reading "The Far Beyond" by Warwick Thompson and it is one of the best books I have read in a very long time, so very informative about New Zealand's early gold history of Otago as it is based on actual history, places and real characters. It even touches on a Maori war account. This can be purchased at Paper Plus stores in Alexandra, Cromwell, Wanaka & Queenstown.
We still have the booklet "Gold Trails of Otago" by John Hall-Jones for the cost of $12.95 (a bargain) of which the proceeds are going to the Trust. With Xmas not far away this would be a good idea to give to young and old as it is very informative and well illustrated with some amazing photos.
CAVALCADE 2010
Wanaka have not supplied us with a name as yet as they have put it out to the public as a competition.
Nothing much happens to report at this time of the year but things are ticking away in the background with budgets and details being worked on etc.
Terry has been chasing potential Sponsors with some degree of success but has had other issues loaded on his plate these last couple of months.
There is a lot of interest in this next Cavalcade to Wanaka with the trail Bosses working on some very exciting trails.  So good to see the days lengthening again – inspires a person to get out there walking and riding in some parts of the country dry enough to do so.
As information develops it will be posted on the website. www.cavalcade.co.nz
MEMBERSHIP RENEWALS:
We may have some subscription renewals out-standing; you can pay these via our website www.goldfieldstrust.org.nz or send your payment to our office. These funds are very important to us to enable the good work of the Trust to continue.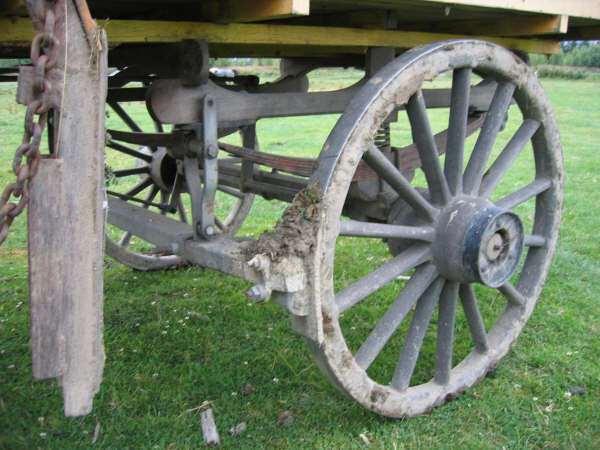 Olive Webb has written this poem for you all. If you would like more information about the sale of her horse and cart you can contact her by e-mail owebb@iahs.co
Cavalcade Time
I've thirteen badges on my hat
I'm proud of everyone
They tell that I have done it all
In snow and sleet and sun
I started out at Nokomai
I left in sun and snow
I've arrived all over Central
I've been there at all those shows.
There's something special on the trail
A 'Nowhere-else' pervades
A shot of Country deep in veins
A shot that never fades.
The cavalcade, the cavalcade
The stirring starts with Spring
Where to, when and how we ask
What will the next thrills bring
But time is done and done is time
The years keep marching on
It's time to call a 'whoa' and 'halt'
Before all youth is gone.
So I have for sale an old brown horse
And carts and harness too
Five thousand dollars for the lot.
Well done Olive, I hope you get a response.
Hope you are all getting as excited as I am with spring just around the corner, my favourite season.
Regards
Kay Boulton