Ophir Heritage Site Review 20 21 May 2020
Ophir Heritage Site Review – Pilot Study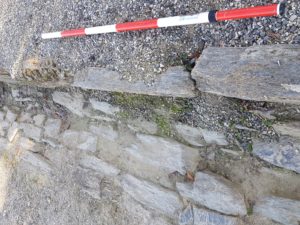 Having just come out of Level 3 Lockdown, Ophir residents were surprised to see a buzz of activity in their town as a group of carefully 'social-distancing' archaeologists measured, photographed and recorded local heritage sites. Under the management of the Otago Goldfields Heritage Trust (OGHT) this pre-arranged visit on 20 and 21 May allowed specialist archaeologists from Dunedin and Central Otago to visit known heritage sites to update existing archaeological records and to add previously unrecorded sites to a Central Otago heritage site database.  Watch the video
The need for the visit came about as it became clear that a complete record of Central Otago's goldfields heritage sites did not exist, unlike in many other Districts where this work had previously been done. Following discussion with Central Lakes Trust, Central Otago District Council, Heritage NZ Pouhere Taonga (HNZPT) and Department of Conservation the OGHT developed an action plan, commissioned a heritage database and launched its initial pilot study in Ophir. That study allowed archaeologists the opportunity to test processes, tools and methods in a relatively small area and to refine practices as needed.
The site assessments were non-invasive and aimed at updating existing records to modern standards, plus capturing details of other sites that had been unrecorded. The study was limited to within the bounds of the Ophir Historic Area, a region that includes most of Ophir's Swindon (Main) Street and the hills immediately behind the town. Initially six sites were known, but by the end of the visit twenty-two sites were  recorded and it is estimated that at least a further twenty sites were not visited because of lack of time.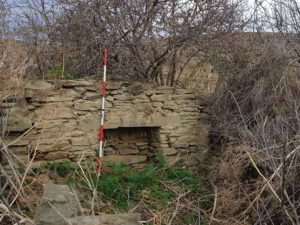 The archaeologists from Absolute Archaeology, Kopuwai Consulting, HNZPT, the University of Otago and the OGHT appreciated the warm welcome and guidance offered to them by Ophir residents and accommodation providers. The knowledge and heritage stories that residents shared with them added significantly to the value of the site records.
An immediate outcome of the study was the opportunity to identify heritage risks, including the potential effects of uncontrolled tree growth, rabbits, or human interference. As examples a quick-growing elderberry tree was cut back near a stacked stone wall, and the effects of water run-off from new road sealing affecting the Daniel O'Connell Bridge approach was noted for CODC attention.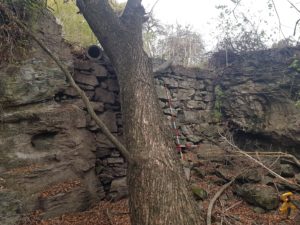 Regarding a heritage opportunity, the amazing range of heritage sites accessible from a 3km loop walking track into the hills behind town could provide a great addition to Ophir's heritage tour options.
The OGHT and visiting archaeologists are very grateful to Ophir residents for giving them the opportunity to explore and record the wonderful Ophir heritage sites and would welcome offers of any pre-1940 photos to assist their ongoing studies. They look forward to future opportunities to visit Ophir again as they progress site visits around the wider Central Otago district.
A couple of pics from Northburn surveyed on the week of 17-20 August 2020.